For those of you who are certified with Google AdWords, or looking to obtain your certification, I wanted to call your attention to a new platform that Google will be rolling out on January 16, 2018.
Google is moving certifications from Google Partners to the Google Academy for Ads.
If you are already certified, you should have received an email from Google with details about the switch (and how to transfer your certifications).
If not, hopefully this post triggers you to check out the new portal before the cutover date.
To find more about this switch and the changes to your certification records check out the video and post  below.
Changes to AdWords certification exams
For years, we have been able to take our exams and store our results in Google Partners. This switch represents a significant change to how certification works.
Starting in January of 2018 certification exams will be taken in the Google Academy for Ads.  In addition, the exams will be referred to as assessments.
Changes to Google certification records and Google Partners profile
Google is also moving your individual certification records to an Academy for Ads account.
When you log into your Google Partners account profile, you will see a notice like the one below.  Google has automatically selected that your certifications will move to an Academy for Ads account in January of 2018.

If you opt-out of moving your certification records to the Academy for Ads, you may lose access to those certifications in April of 2018.  See Google's documentation below.

Google's documentation also indicates that agency employees who opt-out of the switch to Academy for Ads could negatively affect their agency's status or specializations.  If your certification lapses after April 2018, opting out of the switch will cause your certification to expire early.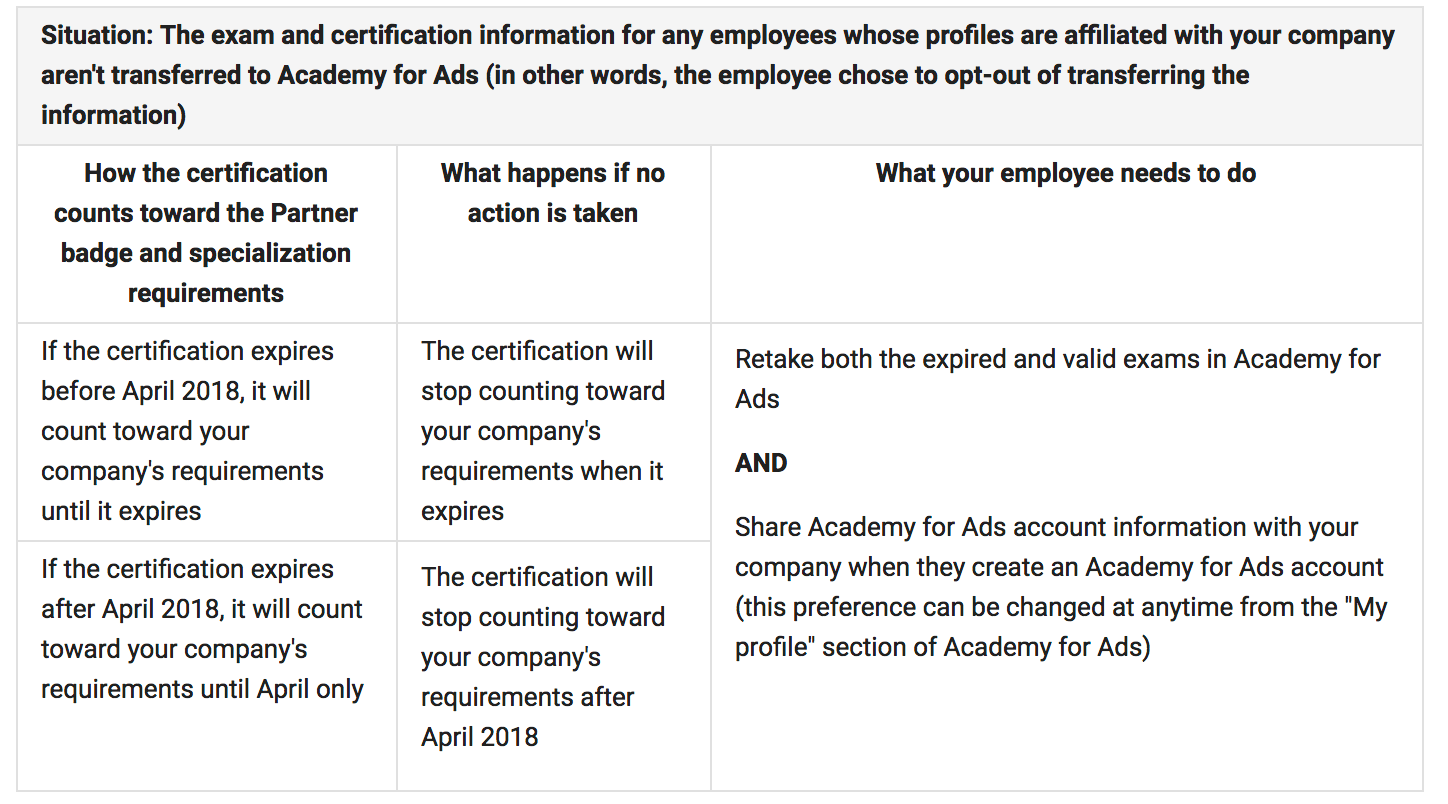 If you do nothing (don't opt-out) your certification(s) will automatically transfer to an Academy for Ads account.
Following the January 2018 switch, Google will also eliminate the Google Partners individual public profile.  At this time It's unclear how to make your certifications and profile public on the Academy for Ads platform.
Recommendations
We recommend that if you've been considering getting certified, or need to update your certification soon, you should do it before the changeover.
In typical Google fashion, they have not provided any tangible information about how, or if, these changes will affect the certification process.
Right now, we still know what to expect and what 's required to pass the certification exams (soon to be assessments). We recommend you obtain or update your certification before Google makes additional changes that could affect this process.
PPC Mastery Course Certification Lessons
We will be doing updated videos on the AdWords certification exams for PPC Mastery Course in 2018.  If you're a PPC Mastery student you'll have access to the new videos in your course account.  We will let you know as soon as the updated certification videos are available, so that you can use them to prepare for the exams.
Google Academy for Ads – fast and easy training?
The tagline for the Google Academy for Ads is "Fast and easy training from Google. Learn what it takes to succeed with Google ads."
Google's content is free, so you have nothing to lose by watching it. But I also recommend you watch these videos with a discerning eye.
You know what else is free, fast and easy to watch? Television Commercials!
Nothing good comes free, fast and easy, in the online marketing space or life in general.
Relying on Google alone to teach you how to use AdWords is like allowing your credit card company to manage your finances. Probably not a wise move!
Use Google's content to stay up to date on the changes and get familiar with their products. But do not use it to guide your advertising strategy or your AdWords account management!
More updates coming soon
As soon as we know more about these changes, we'll update you again.  If you have questions or concerns about these developments, please leave a comment below.
We are all waiting to find out what's next. Your questions and comments will help us learn together.