Today I am sharing one my favorite AdWords tools with you – the AdWords Budget calculator.
The Budget calculator is known as my "Million Dollar Sales Tool," because I have generated millions in revenue using this methodology to help people figure out their AdWords budgets.
A lot of businesses struggle with budget planning for PPC advertising. They don't understand which metrics are important to their online advertising. And they don't know if AdWords is a good investment. The AdWords Budget calculator can help provide answers to these questions.
Using the budget calculator, you can show your clients, or company decision makers if AdWords will be a good investment for them.
You can download the AdWords Budget Calculator below. The video and guide in this post will show you how to use the calculator to help your clients, or business, measure the impact of their investment in AdWords.
Download AdWords Budget Calculator
[I've also include a bonus download and video at the end of this post, the Agency Jumpstart Revenue Calculator. The revenue calculator can be used to figure out the right revenue model for any service-based business. It's a great revenue projection tool for marketing consultants and agencies.]
How to use the Google AdWords Budget Calculator
To create a preliminary AdWords budget, we need to know some basic business data.
Gathering this data can be difficult, but well worth the payoff. This guide will walk you through how to find data for your AdWords budget the easy way. The guide and the budget calculator will also help you find estimates when the data you need isn't available.
Gather your organizational data
Budget Estimate – First, you need a baseline budget. Start out with a monthly amount that you believe will be within your company's or client's expectations.  You can adjust this number to be more accurate as you gather data from your real-life campaigns after launch.
Average Cost-Per-Click – This is the average amount Google will charge you when one of your ads is clicked on. You can find cost-per-click estimates using tools like Google Keyword Planner, SEMRush, or Ubersuggest. But be sure to take these estimates as a loose guideline, and feel free to adjust based on historical advertising data you have available.
Conversion rate – What is the rate your visitors convert into customers on your company's website? If you don't know your conversion rate, use ~1-2% to start. That is the "average" for the web, although most sites convert at a much higher, or lower rate.
Enter your data into the AdWords Budget Calculator
The grey cells in the spreadsheet are variables you can change to see how the adjustments affect your return on investment (ROI).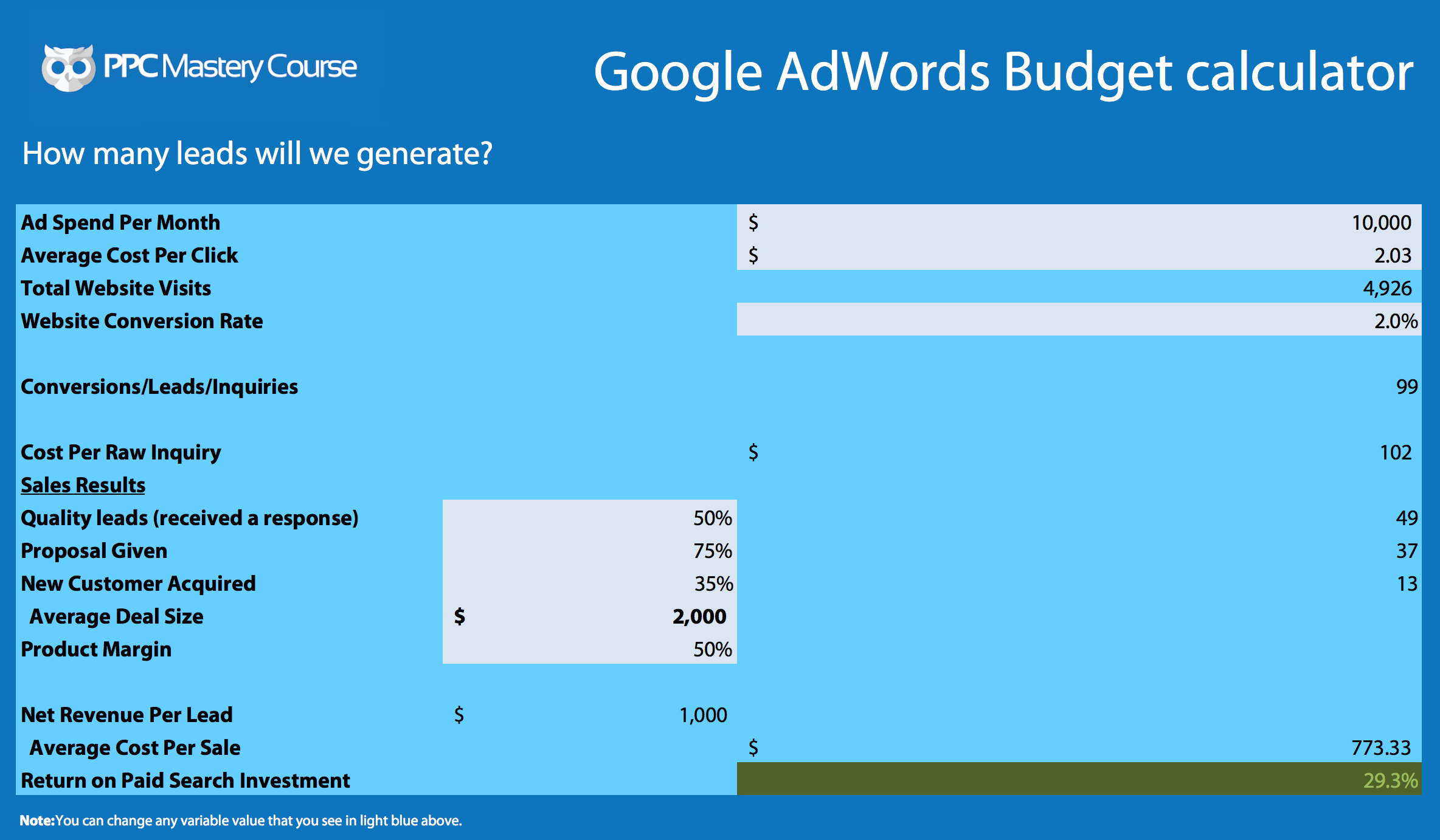 Inputting the data you collected in step 1 will provide you with some preliminary projections.
Project how online advertising affects your company's bottom line
To develop a budget that will accurately reflect the return on the money your company invests in AdWords you need to include cost and sales data in the Budget Calculator. These values are defined below. Once again, you can use estimates if this data is not readily available to you.
Average deal size is the average amount of a customer's total purchase.
Product margin is the amount of income generated above the cost of goods sold. For example, if your cost of goods sold is $1.00 and your product price is $2.00, then your product margin is 50%.
Proposal given is the rate at which ads result in a customer being given a price estimate.
Quality leads is the rate at which leads enter into the sales cycle and connect with one of a sales representatives.
New customer acquired is that rate at which leads turn into paying customers.
Factoring product costs into your Google AdWords budget
If your company is primarily an online seller, then product margin and average deal size will be the most important metrics to focus on in the lower half of the budget calculator. You can fill in the other numbers at 100%.
Evaluate how sales structure affects your AdWords budget strategy
If your business plans on using AdWords to traffic customers to any offline sales channels, then you want to have an idea of how successful you'll be at converting those leads into customers. Offline sales channels can include follow-up calls or emails made by salespeople after a customer submits information into an online form. These metrics are represented in the budget calculator by quote given, quality leads, and new customer acquired.  You could also modify this sheet to include details about any lead nurturing funnels that are in place.
With all your data in the calculator, you get a more precise idea of how your company's costs affect their AdWords budget. You can also start to see where your efforts need to be directed to create a profitable advertising strategy.
Use your estimated budget to see how AdWords Impacts your business
Which areas of your company's advertising plan or sales strategy do you need to focus on to make your AdWords budget efficient? Improving a website, landing page, or sales funnel to increase conversion rate is one of the most common ways to make AdWords more profitable.
Targeting low-cost keywords to reduce cost-per-click can also have a big impact on your ROI.
If you're in a low traffic market, you may need to increase the price of your company's product, or decrease cost, to make your ad campaigns profitable.
The calculator will help you show your company or clients which areas of their sales and marketing process they can improve to make AdWords profitable.  Showing clients and business decision makers how their AdWords investment will impact their bottom line is an excellent way to get "buy-in" to move forward with your AdWords marketing plans.And if you want to dig even deeper into effective Google Ads management, take a look at our 10,000+ word tutorial that covers how this budget calculator fits into overall campaign success.
If you have questions about building an AdWords budget, post a comment below.  Let us know if the calculator helps with your AdWords budget planning.
---
Bonus: Agency Jumpstart Revenue Calculator
I also wanted to share with you a bonus video that helps your agency or consulting business get properly compensated for your work. This methodology is designed to make sure your business is profitable from the first day you get started.
Here's how it works. Watch the following video to see how revenue models work for agencies.
And when you are done, visit the Agency Course website to download the Agency Revenue Calculator.
You can use the calculator to asses how different revenue models will impact your agency's revenue growth.
Finally, if you work for an agency, I have a final question for you. Do you want to grow your agency profits? Join the Agency Course Waitlist.