2018 brought some big changes to the AdWords certification process.
This past January, Google moved their certification resources from the Google Partners platform to the Academy for Ads.
Today, we'll take a quick look at how these changes have affected the AdWords certification process. We'll track down where to find your certification records. And we'll review what's available to us on the new Academy for Ads platform.
Google Partners individual certifications have closed
You may recall hearing from me in December about changes to your Google partners profile.
Well, those changes have rolled out to all AdWords users. If you're Google AdWords certified, your records have moved.
In your Google Partners profile, under your certification tab, you'll find a link directing you to the Academy for Ads.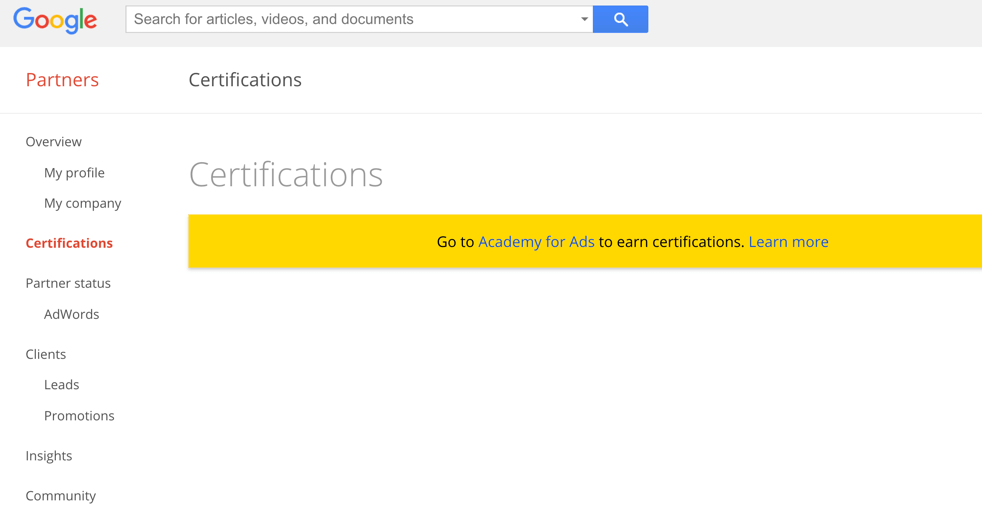 This link will take you to the Academy for Ads landing page.

To access your records, you'll need to sign in with the Google account that's associated with your AdWords certification.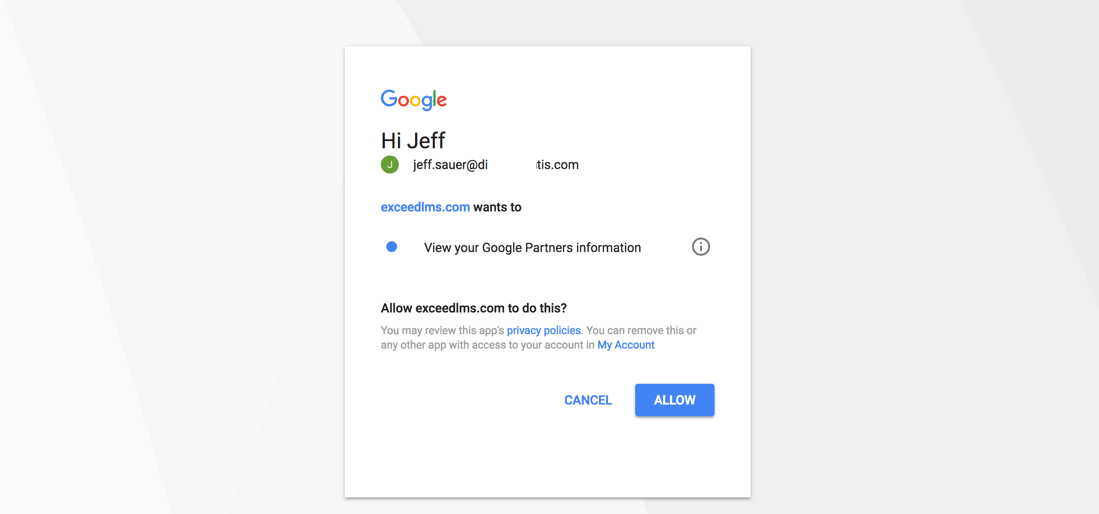 When you log in, Google will ask you if you want to share your account information with your company. For most of us, the answer will be yes. Sharing your certification records with your employer or business can help enhance their Google profile. But you should review the disclaimer, and make your own decision.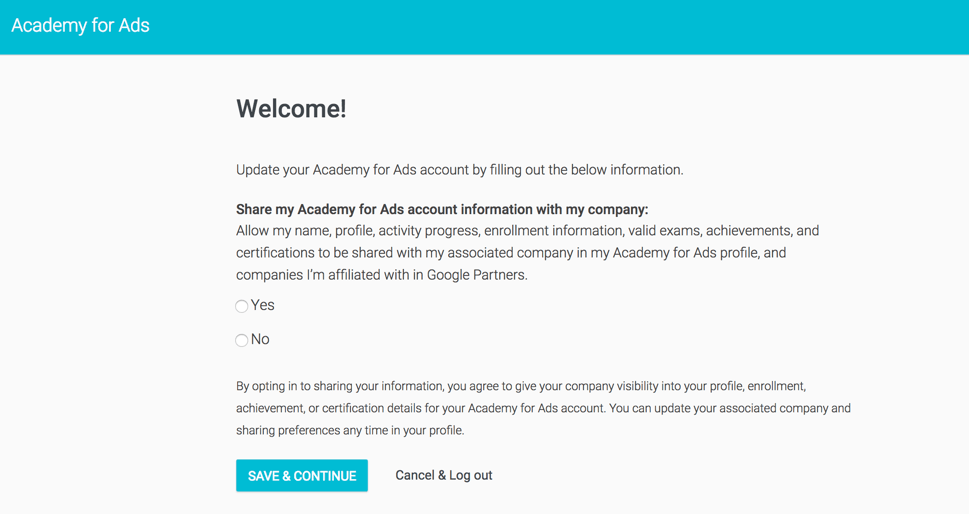 Next, you'll be directed to the Academy for Ads home page.

How do I find my AdWords certification records?
Once you're in your Academy for Ads account, click on the profile icon in the upper right-hand corner.
Then, select My Profile from the drop-down menu.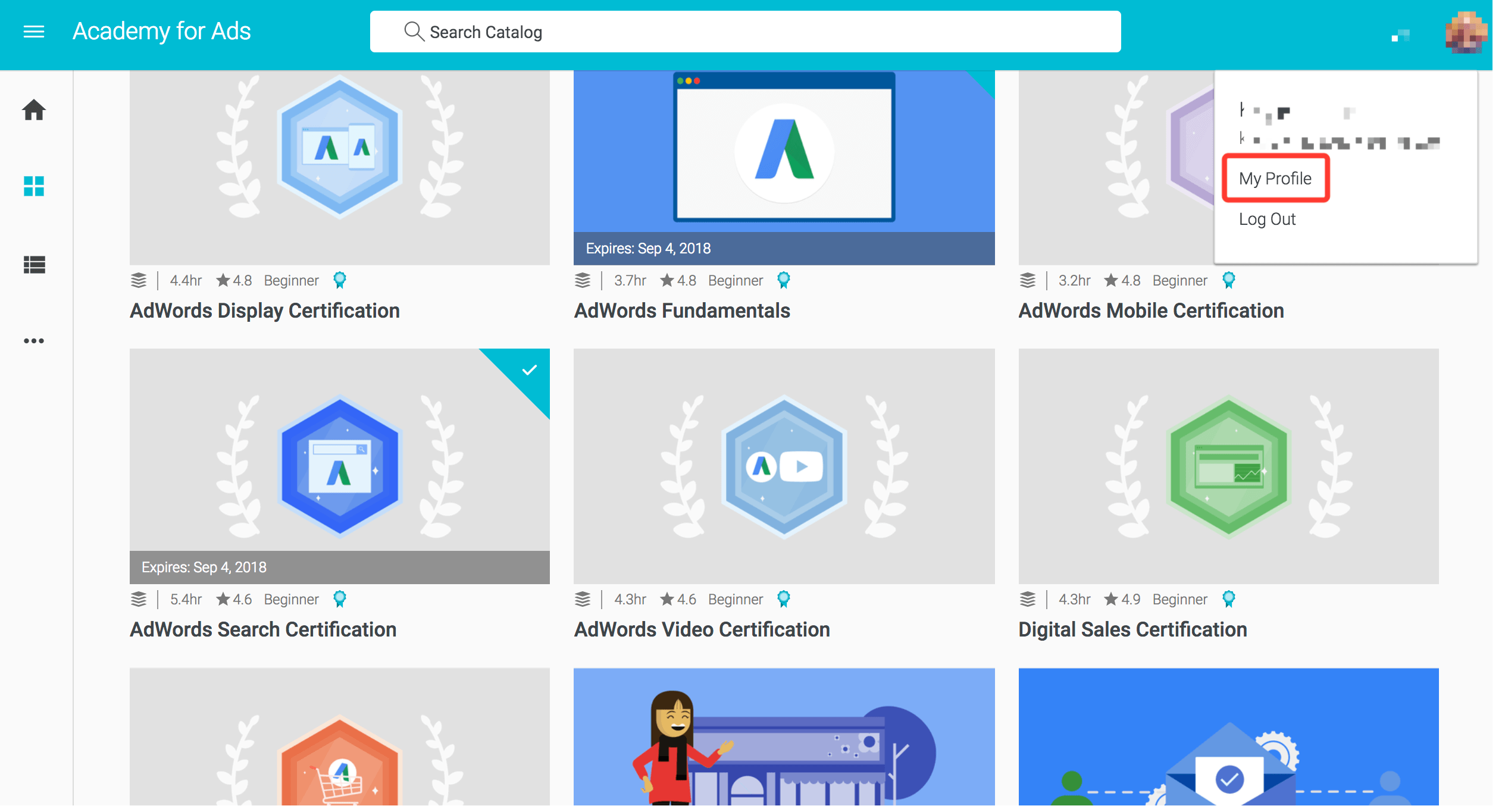 This link will take you to your to certification records.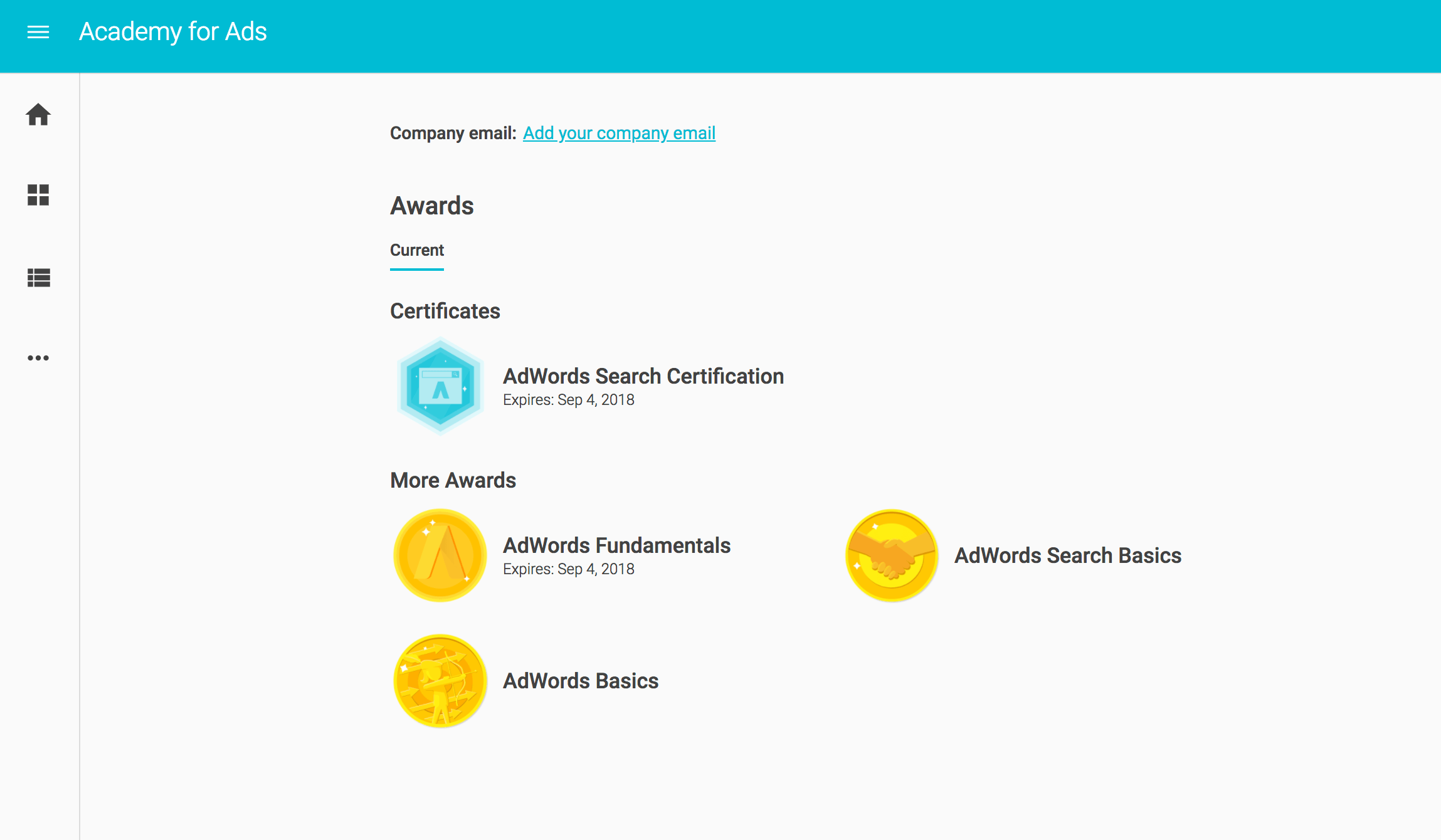 What's in the Academy for Ads?
On the Academy for ads homepage, you'll see a menu of the available training courses.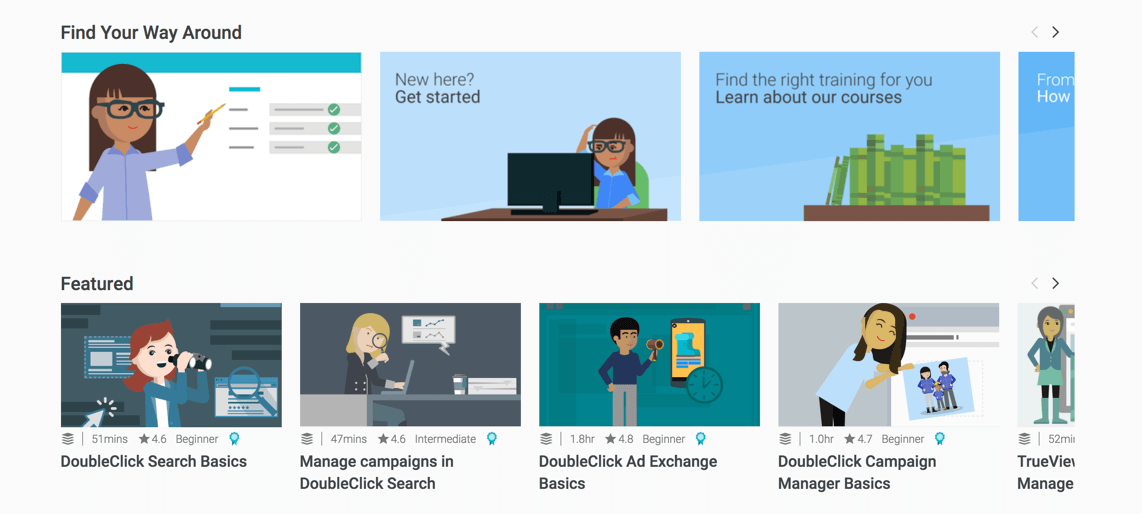 These courses are brief, animated tutorials about Google's products.
Most of the courses are broken down into small segments. The information is basic and easy to work through.
The courses are like snackable AdWords resources. The are not very in-depth.  But that are good place to start learning about some the features that exist on the AdWords platform.
Certification Assessments
The Google certification tests used to be called exams. They are now referred to as assessments.
Below the featured courses menu, you'll find links to the certification assessments.

If you're already certified, the assessment links will show you when your certification expires.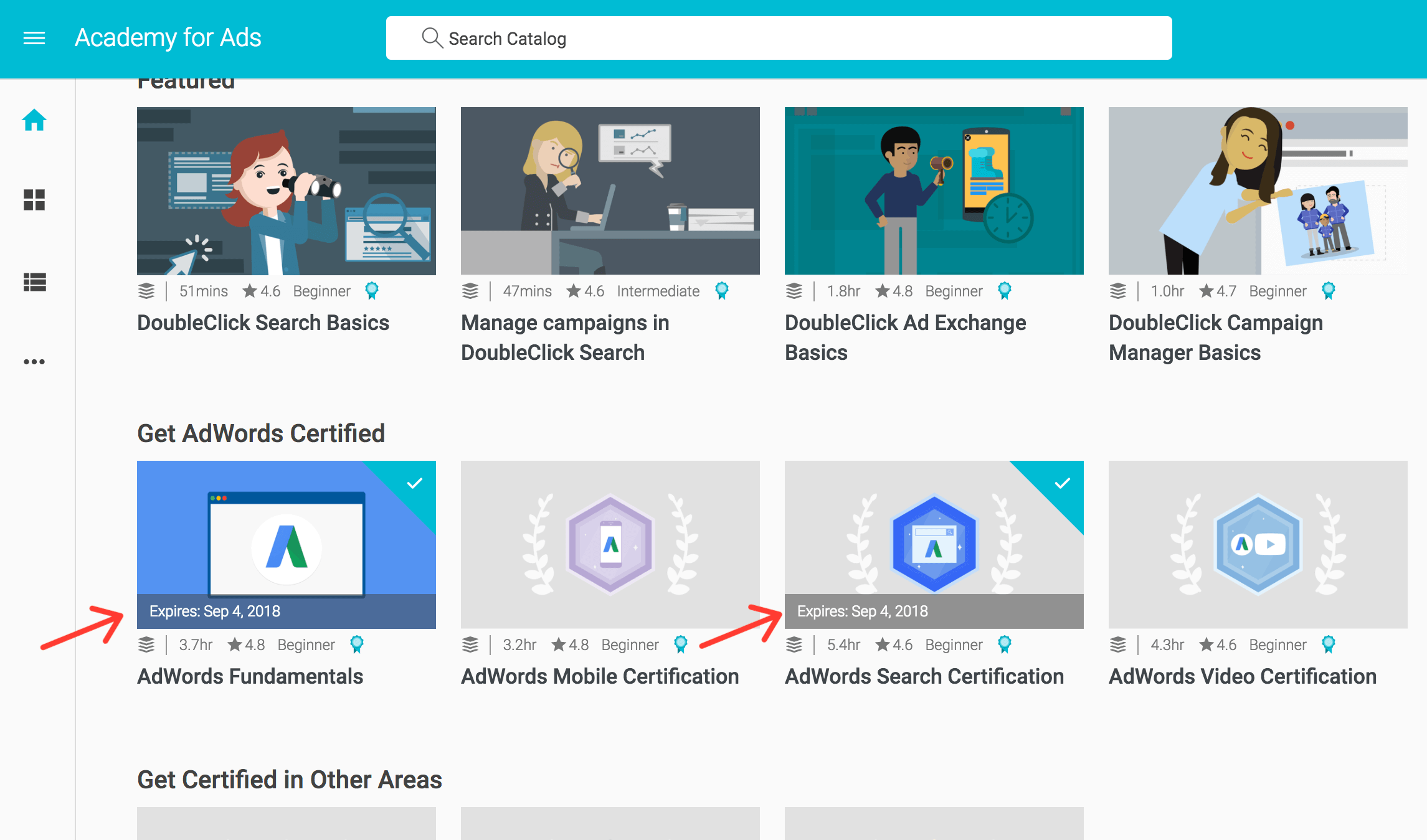 Google AdWords Fundamentals training
The Google Adwords Fundamentals courses offer 3.7 hours of free content.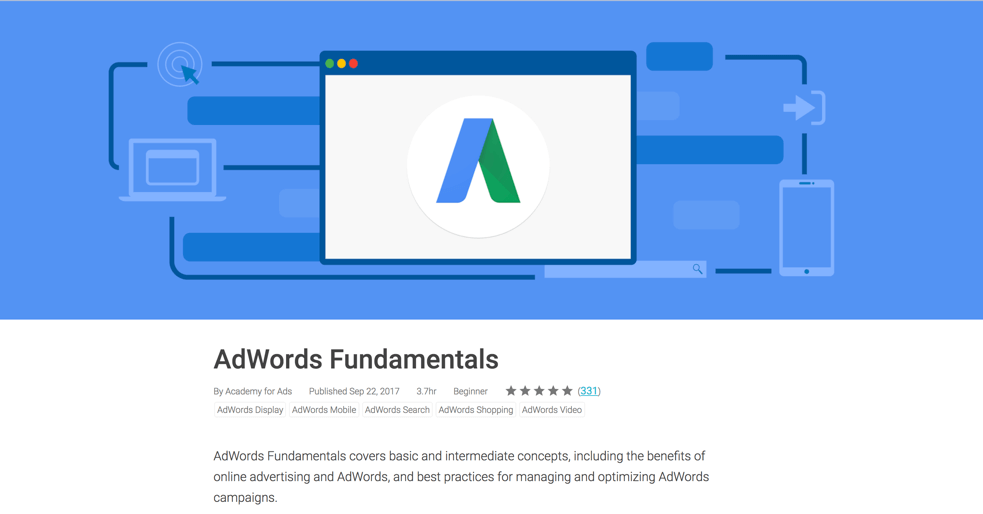 And if you take a further look, you'll see the courses themselves are only 2.2 hours long.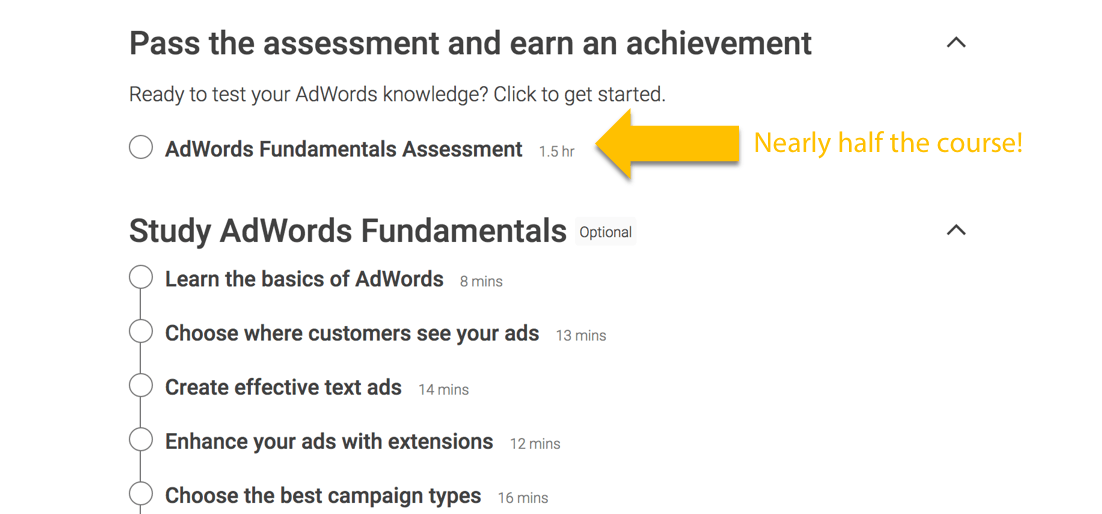 The Adwords Fundamentals Assessment accounts for 1.5 hours of the training content. (Most people finish this exam in well under 1.5 hours).
Overall, the Academy for Ads offers a quick walkthrough of AdWords basic features and structure. These tutorials are a good starting point if you have limited AdWords experience.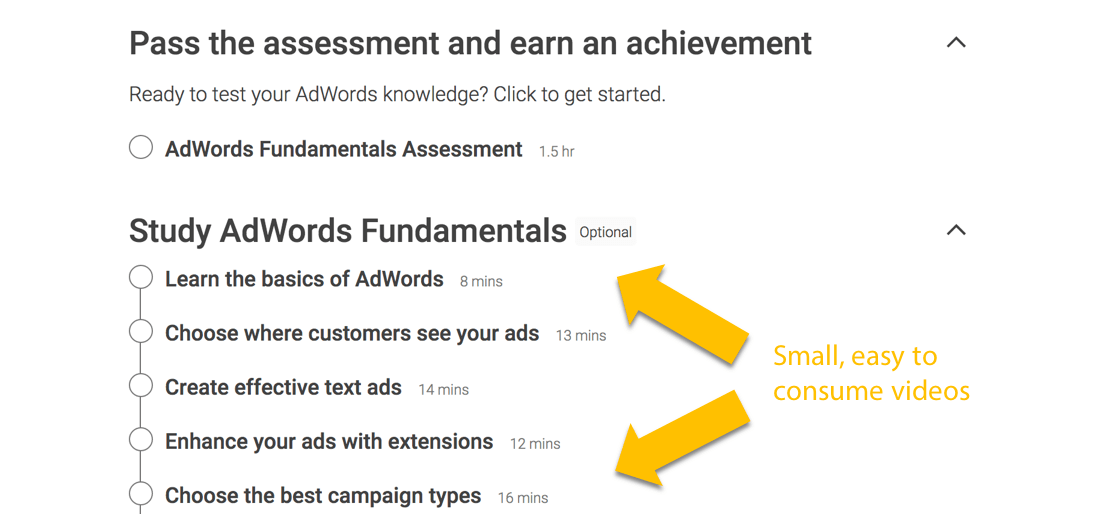 You can complete the tutorials, and if you're ready, pass the assessments in less than half a day.
But, keep in mind, learning this way will only prepare you for the test.
It will not prepare you to deliver high quality results managing an AdWords account.
AdWords Infomercials
The Academy for Ads training courses are like commercials. They provide background on what you can do in AdWords, and Google makes you feel great about getting started right away with your advertising!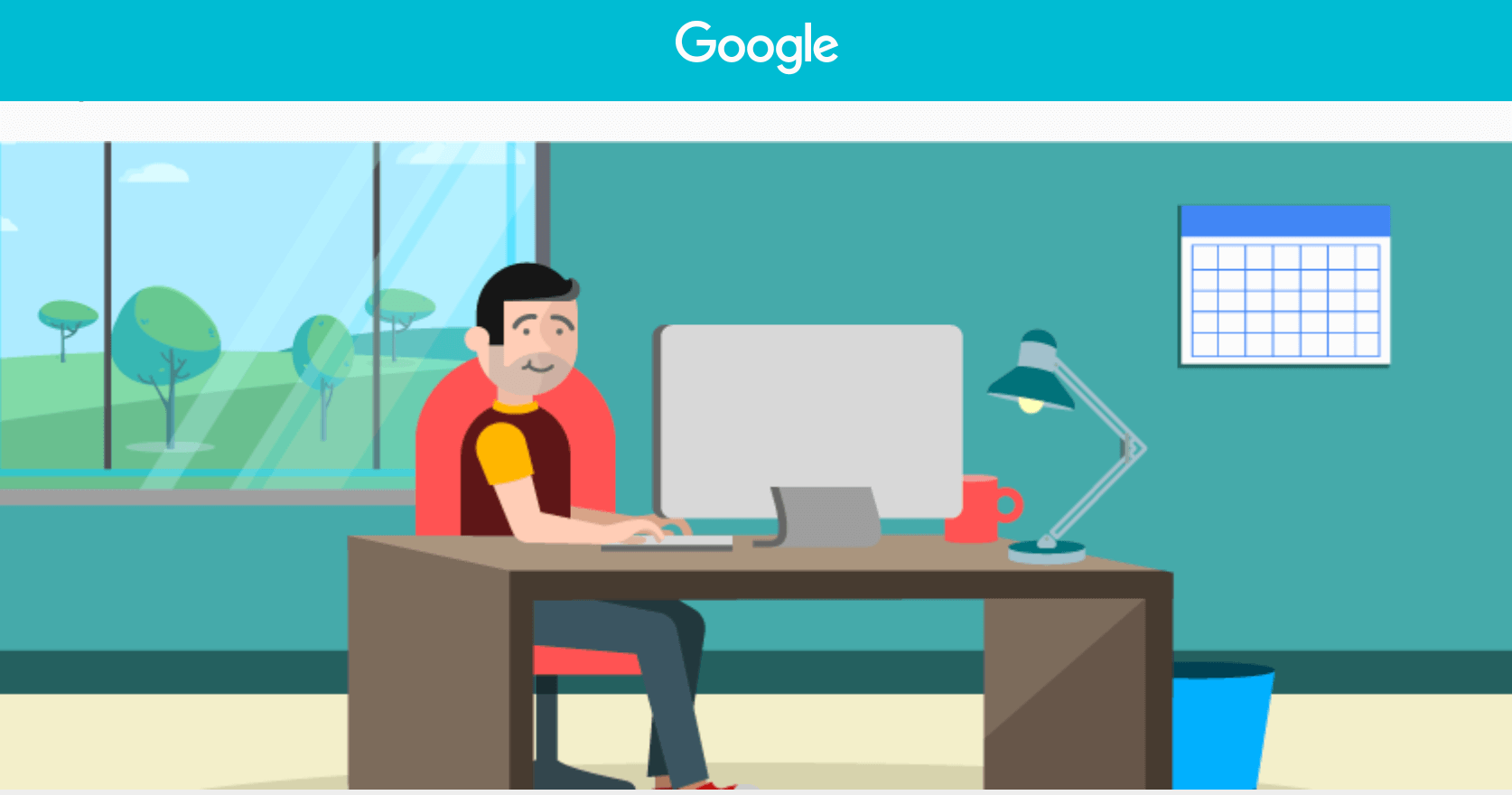 Unfortunately, what you don't get from the Academy for Ads is the knowledge that makes a real difference.
You don't get:
You won't find any of this information because Google leaves the hard work up to you.
And you can't blame Google for this. It's not their obligation to train you. They provide the greatest advertising platform in the world. But it's up to you to learn how to use it appropriately.
It's on you how to figure out how to maximize your budgets and outmaneuver your competition.
You get what you pay for
So, my take on Google's free training hasn't changed. The Academy for Ads is a solid free resource.
But, if you want to learn how to maximize your return on ad spend, it won't be free.
If you do nothing more than the Academy for Ads training, you'll pay Google in wasted ad spend. These losses can add up to $100's to $1000's a day.
Without good training, Google will take you to the school of hard knocks
There were no comprehensive training programs when I started with AdWords. So, I had to learn everything the hard way.
I created PPC Mastery Course to help people avoid getting taken to the school of hard knocks by Google.
Now, this post isn't about selling you on an AdWords training program. I bring these points up because I would be remiss if I didn't remind you of the PPC Mastery Course ethos!
PPC Mastery Course Strategy
My PPC Mastery Course exists as a premium program beyond Google's free training. A program where I teach you a strategic approach that gets profitable results in AdWords.
Google's more than happy to show you where the buttons are in the Adwords interface. Why? Because the sooner you get started advertising, the sooner Google makes money.
But, a thoughtful, strategic approach is how you gain success in AdWords. The strategy we practice in PPC Mastery Course… The strategy we've been building on in these blog posts every week… That's the strategy that led to my agency producing amazing results with AdWords.
If you follow the PPC Mastery Course strategy, you can achieve results that are 3 to 5X better than your competitors.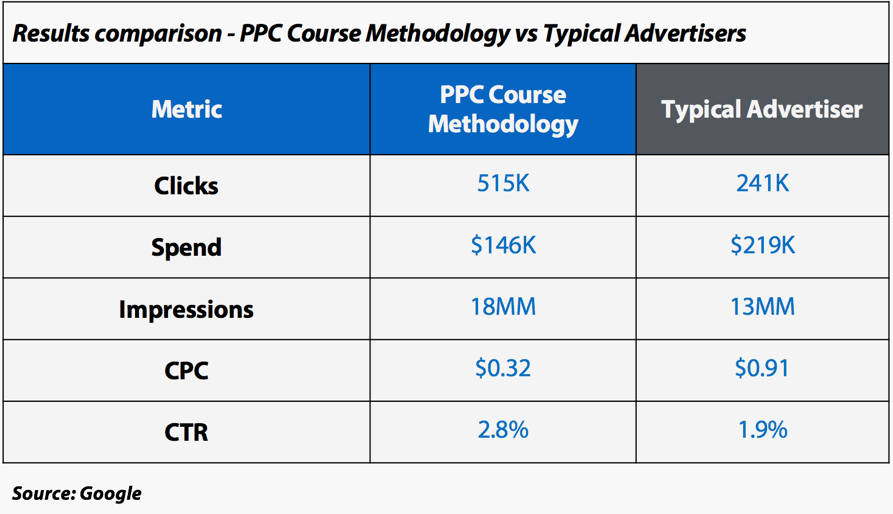 But, if you only follow Google's guidance on how to use AdWords, you'll wind up lighting money on fire. PLEASE don't do this!
Use Google's free courses to get started. Then purchase a premium course like my PPC Mastery Course, and blend that information with the strategy we focus on in our course!
If you haven't started PPC Mastery Course yet, you can join us in our Free Mini-Course. Our Free Course includes a walkthrough of the AdWords Fundamentals exams.
What do think of the move to Academy for Ads?
I'd love to hear your thoughts on Google's new training platform. Have you updated or taken your certification recently? What changes did you notice? What did you like about the Academy for Ads? And what didn't you like? Share your thoughts in the comments below.
---
This post and video was episode 72 in our 90 Day Challenge digital marketing series.
To get access to all 90 videos, subscribe to our YouTube channel. YouTube will send our subscribers weekly emails about all the videos we published over the past week.
Want to know about each video and post as soon as it comes out? Sign up for 90 day challenge email newsletter. The newsletter will be the best way to make sure you don't miss any of the content.